the Fine Arts Association in Willoughby presents
Mark Wood Rock Camp: a Unique Opportunity for String Players
Mark Wood Rock Camp: A Week-Long Day Camp for String Players (grades 6 & up, intermediate & advanced musicians.)
ATTENTION ALL STRING PLAYERS … ARE YOU READY TO ROCK?
The first-ever Mark Wood Ohio Rock Camp, a week long Day Camp for String Players sponsored by the Fine Arts Association in Willoughby, OH! For the first part of the week, Mark Wood's protégé Kent Dockus (of Machine-Gun Kelly "MGK", the Lakewood Project), an Artist Mentor fully trained in Mark's curriculum, will be leading workshops, rehearsals, and more. Emmy Award Winning Composer Mark Wood (the Trans-Siberian Orchestra, Celine Dion,Billy Joel and more) will be arriving mid-week for a series of in-depth master classes. Students will preform with Mark and his full band on Saturday June 16th, at the Mentor Amphitheater.
Royalton Music Center will be donating a Wood Violins Stingray Electric Violin to be raffled off at the concert. Each student that registers is automatically entered for a chance to WIN!
Topics covered in our classes will include:
Contemporary techniques such as chopping, strum bowing, and slide vibrato
Ear training methods utilizing personal I-devices to record themselves and analyze individual playing techniques
Exploring improvisation by introducing campers to pentatonic scales, finger patterns and playing over loops
Introduction to electric string instruments with product demo stations
Outboard gear demo stations (pedals and effects)
Recording your own music and music videos.
Sectionals and rehearsals for final concert event
Students will be immersed in cultivating self–expression through improvisation, performance, and the latest technology! All students will receive a free Mark Wood Rock Camp t-shirt.
Register early! Limited spots are available! Registration closes may 8, 2018. info for audition purposes will be sent out after registeration.
June 11 - 15 2018
Monday - Friday 9am - 4pm
Willoughby Fine Arts Association
38660 Mentor Ave. Willoughby, OH 44094
USA
"All of the students are truly blessed with the priceless gift of being able to learn from the most talented musicians on the planet! It is truly touching that this amazing faculty "gives back" by giving their time and talents to educate and inspire the artists of tomorrow! I know Kevin's life will forever be influenced by this experience! A huge thanks to Mark Wood all for giving the artists of tomorrow this amazing opportunity!!!"
- Michelle (Parent of camper)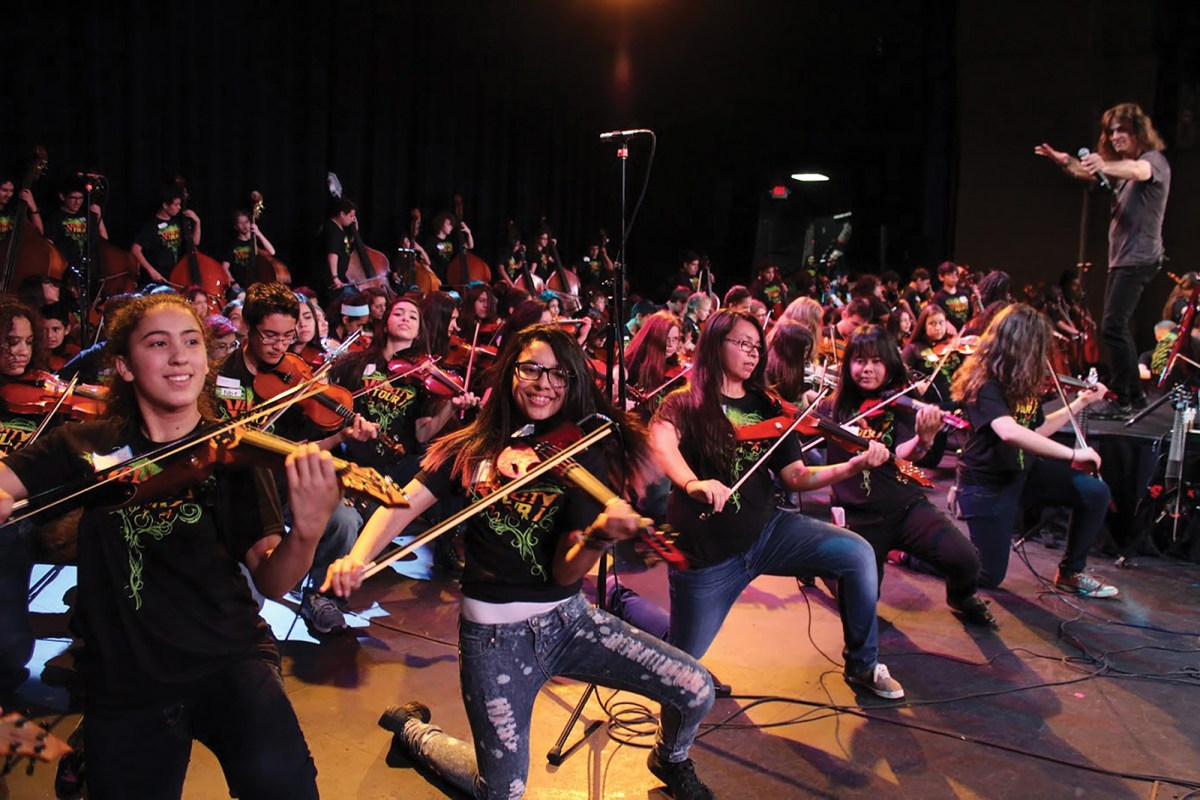 Enhance your skills as a string player.
The 21st century musician must have the ability to express themselves artistically. In our workshops, we will teach students how to improvise and compose their own music using their primary instruments.
There is a vast world of music technology out there, and we want [removed apostrophe] to bring it to our students. During our workshops, we will teach them audio recording, using effects, amps, live looping, filming music videos, electric string instruments and more.
Contemporary String Techniques
String players of the 21st century use many different techniques to play many different types of music. In our workshops we will address new string concepts such as Strum bowing, Chopping, Pinch Harmonics, Slide Vibrato, and playing chords.
"I wanna thank mark and Kent for being such amazing people and inspiring me to bring music in my life..seeing both of you play so passionate and excited reminded me of how fun and amazing music making can be.."
- Gabriella (Camper)
rehearsals
Become a part of a rock orchestra.
Being a 21st century string player is more than just hitting all of the right notes. During rehearsals we address concepts such as moving and playing, feeling the pocket, soloing and more.
Playing in a commercial music setting can be tricky. During rehearsals we will address how to listen for other parts in the group, how to confidently preform your part, soloing with others, etc.
This isn't your grandfather's orchestra camp, this is a ROCK orchestra camp! Of we course we haven't forgotten about all of the great rock and roll arrangements that will be preformed as a group.
concert
Preform alongside a true rock and roll legend