live in poland with
the opole philharmonic
CLICK HERE to watch this
exciting concert video on Vimeo On Demand!
Scroll down for photos from the show, REHEARSALS, AND AROUND OPOLE.
World-renowned electric violinist, recording artist, performer, producer, inventor, Emmy-winning composer and music education advocate Mark Wood has spent the past four decades electrifying the music industry – literally. This concert was one of the top highlights of his career, and adjunctly the careers of powerhouse vocalist Laura Kaye and prodigy drummer Elijah Wood; his wife and child, respectively. The chemistry exhibited by this family trio on stage is unmistakeable and a real rarity in the entertainment world. This was MWE's second appearance at the Drum Fest concert series, and features Mark's jaw dropping symphonic arrangements of original and cover material, performed with the Opole Philharmonic Orchestra. MWE also features Paul Ranieri on bass and Steve Costello on guitar.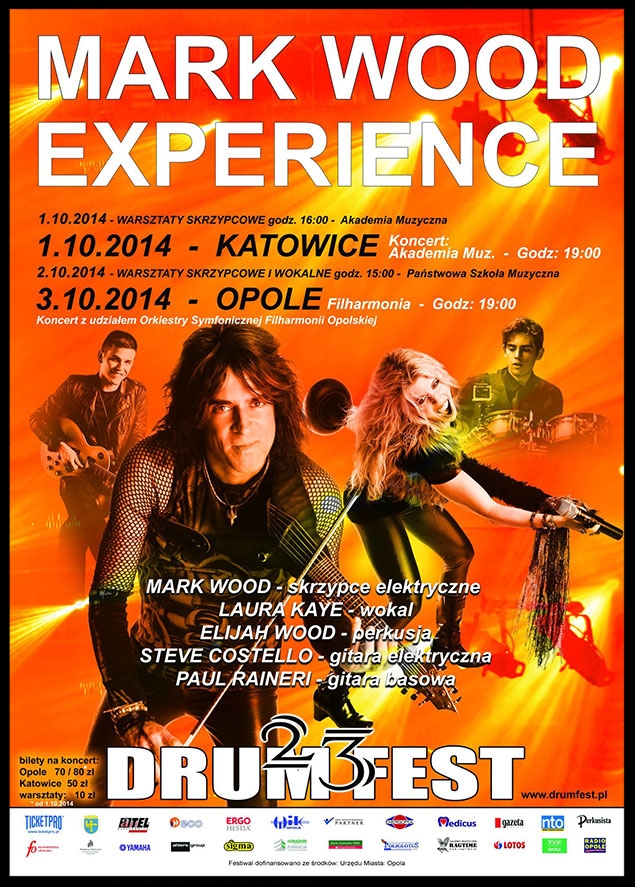 when the Mark Wood Rock Orchestra performed at the Winter NAMM Show (National Association of Music Merchants) in January of 2011. In the audience that day was Wojtek Lasek, owner of Ragtime Music in Opole, Poland, who approached vocalist Laura Kaye after the show and handed her his card, with an invitation to perform at their annual Drum Fest series of concerts.
It took close to 3 years to iron out all the details but in the fall of 2013, the Mark Wood Experience (featuring Mark's wife Laura Kaye on vocals; and their child Elijah Wood on drums) made the long and wonderful trek to Opole. That year's performance was such a tremendous success that the MWE was invited back the following October. The resulting concert was filmed, and most of the details involved in getting it produced and released were the direct result of Elijah's massive help, making this a true family (ad)venture.
VIDEO CREDITS
THE MARK WOOD EXPERIENCE
Mark Wood –skrzypce elektryczne (electric violinist)
Laura Kaye – wokal (vocalist)
Elijah Wood – perkusja (drummer)
Paul Ranieri – gitara basowa (bass player)
Steve Costello – gitara elektryczna (guitarist)
FILHARMONII OPOLSKIEJ (Opole Philharmonic)
Giancarlo DeLorenzo – dyrygent (conductor)
THE AMAZING A'S (background singers):
Anna Kolczyk, Agnieszka Chłap, Joanna "Asia" Jackowiak, Agata Suchocka, Agnieszka Derkacz
Filmed October 3, 2014 at Filharmonia, Opole, Poland
Drum Fest 23 is a RAGTIME MUSIC presentation
Special thanks to Wojtek Lasek, Ola Niewara, Julia Dinh, and everyone involved with Drum Fest 23.
ragtime.pl • drumfest.pl
Produced by Mark Wood Music Productions (Mark Wood, Elijah Wood, Laura Kaye)
Filmed by Lupus Film
FOH: Krzysztof Passowicz
Mixed and engineered by Nicholas Cipriano
Edited by Elijah Wood
Color by Mark Todd Osborne
Graphic design: Laura Kaye
Photography: Marek Guzik
Kobiyashi Mahru (by Mark Wood)
Published by Violint Music (ASCAP)
Vivaldi Rocks (arr. Mark Wood)
Published by Violint Music (ASCAP)
Karn Evil 9 (by Keith Noel Emerson & Gregory Lake)
Published by Leadchoice Limited (ASCAP) By arrangement with Music Sales Group
Fire 'n Ice (by Mark Wood)
Published by Violint Music (ASCAP)
In Your Eyes (by Peter Brian Gabriel)
Published by EMI Blackwood Music, Inc (BMI)
By arrangement with Sony/ATV Music Publishing
Pirates of the Caribbean (Main Title) (by Hans Florian Zimmer & Klaus Badelt)
Published by Walt Disney Music Company (ASCAP) & Wonderland Music Company, Inc. (BMI)
By arrangement with Disney Music Publishing
Hands Across the Ocean (by Mark Wood & Laura Kaye)
Published by Violint Music (ASCAP)
World Vision (by Mark Wood & Laura Kaye)
Published by Violint Music (ASCAP)
Hoedown (arr. Mark Wood)
Published by Violint Music (ASCAP)
© 2017 Viper Nation Records. All rights reserved. Unauthorized duplication is a violation of applicable laws. Made in USA.